A family favorite in our house is the Build-Your-Own Burrito Bowl. It's a great way for everyone to create a meal they love! This month's Recipe Redux challenge is to create a recipe using at least three items "that are actually in your refrigerator or pantry right now. Show us how you reduce food waste by being resourceful." Burrito bowls are a great way to clear out foods that have been lingering in your pantry, fridge or freezer. There's no one way to make a burrito bowl, but I do like to include a protein (usually chicken, beans and/or cheese), a starch (rice, quinoa, sweet potato or tortilla) and lots of veggies (tomato, peppers, corn, zucchini, salsa, cauliflower rice are a few ideas). Avocado or my yogurt lime crema made great additions too!
Since I participated in a pantry challenge hosted by Real Mom Nutrition and Mom's Kitchen Handbook in January, I've been basing my weekly menus on all those things I found lingering in my pantry, fridge and freezer. The biggest bonus (besides that spectacular feeling that comes with clearing things out) is that we're saving a ton of money on groceries! For this burrito bowl, I was looking to use a package of frozen chicken thighs, frozen corn, some dried black beans, and from the fridge, bell peppers, half a container of salsa and half a package of cotija cheese. I did buy cherry tomatoes, which my daughter LOVES, and a fresh stock of avocados, since we just finished our last one.
What are your favorite pantry/fridge/freezer-clearing meal ideas? Please share with us in the comments!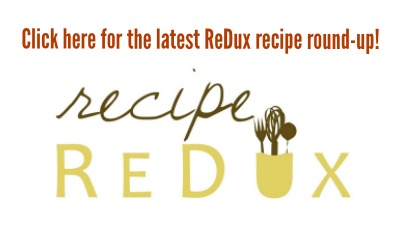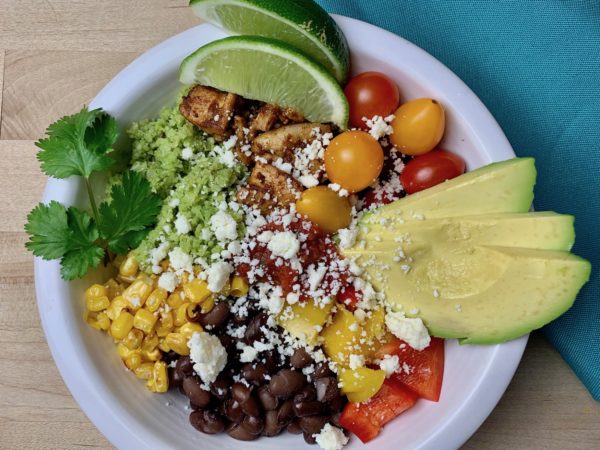 | | |
| --- | --- |
| | |
Warm the oil in a large skillet over medium heat. Add the chicken and cook it until it's no longer pink, about 3-4 minutes.

Add taco seasoning and water and simmer for 5-7 minutes, then turn off the heat.

Present all of the burrito bowl ingredients buffet-style across the table. Allow each person to customize his or her own bowl. Enjoy!
Notes: Substitute cauliflower rice for cooked rice for more veggies and a lower carb option (don't worry, you'll still get carbs from the beans and corn)!