Every year I watch the Oscars. I love going to the movies, but I also love to watch them in the comfort of my home. So as the award show dazzles through the night, I diligently make a list of all the good movies I missed in the theater so I can enjoy them later. I also appreciate the recognition of those who contribute their hard work and creative genius behind the scenes. Whether by myself or with friends and family, good eats are imperative while enjoying the show! This month, The Recipe Redux challenge was to share a movie-themed recipe, either recreating a meal from a favorite movie or creating an appetizer for an Oscar viewing party. I chose the latter, meeting the challenge with this original recipe: Baked Tamale Bites with Yogurt Lime Crema. They are a labor of love, but you will be rewarded with the perfect appetizer in the end!
Traditionally, tamales are an indulgent food made around the holidays. Corn masa, prepared by mixing nixtamalized ground corn and lard, is spread in a corn husk and filled with rich meats cooked with chile. It is then wrapped in the corn husk and steamed. Making tamales is often a communal event, bringing family and friends together. This recipe does not fall under the "quick" category, so having some helping hands will hurry the prep along and dial up the fun factor. Kids can help mix the masa and press it into a muffin pan; they can help measure ingredients and crumble the cheese; they can fill the masa shells and add the toppings.
What makes these healthy?
The Masa
Masa is a gluten free whole grain rich in fiber, protein and B vitamins. To prepare masa for tamales, masa harina is combined with lard, which is high in saturated fat. The American Heart Association recommends limiting saturated fat in the diet to protect against heart disease. The masa in this recipe is made with heart-healthy vegetable oil. Additionally, I reduced the quantity of fat one might typically see in a tamale recipe and replaced it with broth, which adds flavor and keeps the masa moist. With less fat, the tamale shells are lower in calories.
The Filling
Tamales are often filled with tender, high-fat meats cooked in chile sauce. High fat meats are one of the primary sources of saturated fat in the American diet. Additionally, less than 10% of people in the United States eat the daily recommended amount of vegetables (2-3 cups for adults). These tamale bites are filled with veggies and beans, both excellent sources of fiber, micronutrients and antioxidants. Onions contain sulphur compounds that may protect against cancer, while zucchini contains B vitamins and potassium. Chiles are an excellent source of vitamin C and capsaicin, which can have a small effect on boosting metabolism. Black beans provide lean protein, iron, magnesium and anthocyanins, a group of powerful antioxidants. Many of these nutrients are under consumed in the American diet, and here they all are in one delicious recipe!
The Toppings
Cheese can be another common source of saturated fat in the diet, but the dry, salty cotija in this recipe adds a lot of flavor with just a sprinkle. Crema made from cream is, again, high in saturated fat. Replacing cream with yogurt reduces the fat, and adds protein, calcium and probiotics.
All in a bite
Tamales made in corn husks vary in size. The beauty of these bite-sized tamales is that you get all the flavors and textures in one scrumptious mouthful. They are perfectly portioned to enjoy as an appetizer, a snack or a light meal.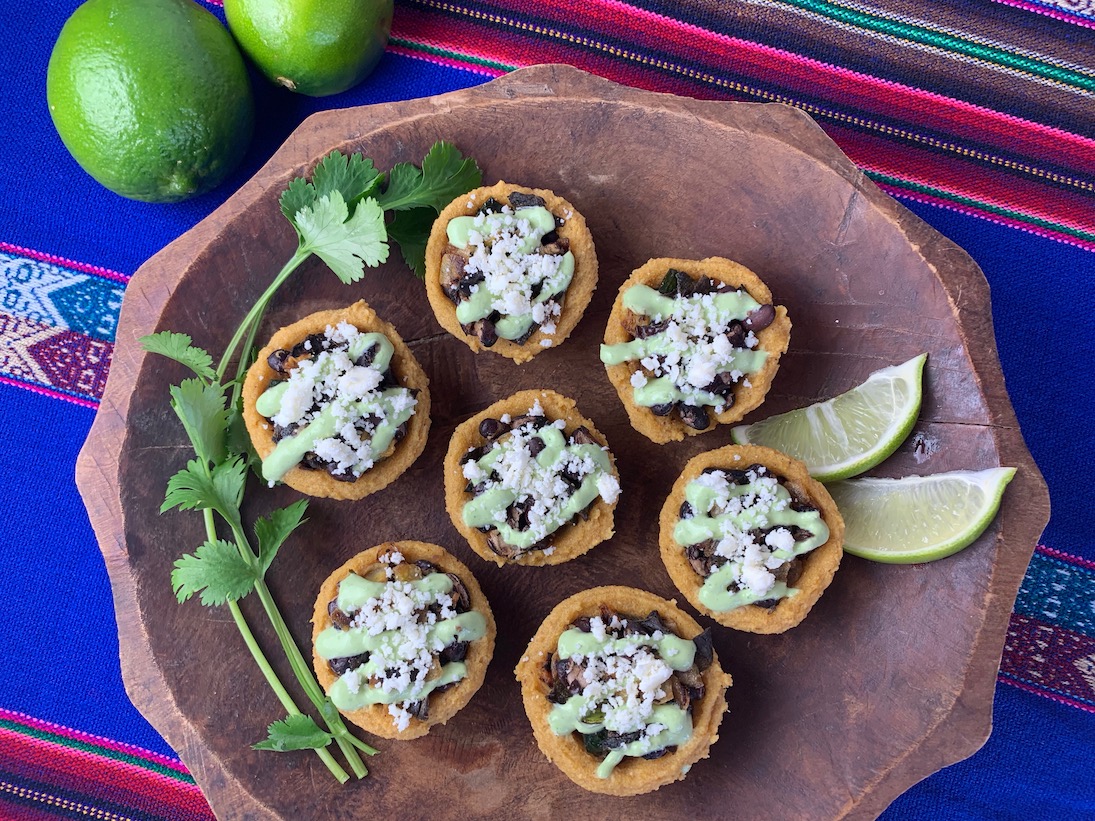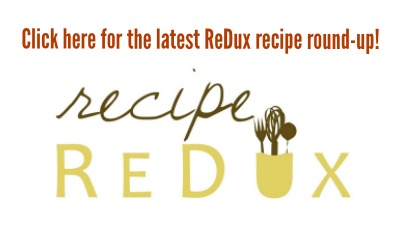 | | |
| --- | --- |
| | |
Combine the masa, baking powder and salt in a bowl. Add vegetable oil and mix with a whisk until it is well distributed. Add broth and mix with a spatula until combined and smooth.
To prepare vegetable filling:
Add 1 Tbs. oil to a large skillet over medium-low heat. Add onions and stir occasionally until soft and starting to caramelize, about 10 minutes. Add zucchini and oregano and cook, stirring occasionally for 10 minutes. Add chiles, black beans and salt. Stir to mix until warmed through. Turn off the stove and set aside.
Preheat the oven to 350 degrees. Coat a mini muffin pan with vegetable oil spray. Add a heaping tablespoon of prepared masa to each muffin cup. Shape the masa into a little bowl, using your thumbs to press the masa to the sides of the muffin cup. Place 1 Tablespoon of vegetable filling into each masa cup. Bake 15-20 minutes. Allow to cool 5 minutes before carefully removing tamale bites from the pan.
While baking, prepare the yogurt lime crema. Place all ingredients in a blender and blend until smooth.
Top each tamale bite with a drizzle of yogurt lime crema and a sprinkle of cotija and cilantro. Serve with a wedge of lime for spritzing. Enjoy!