When you eat this veggie bowl in the morning, you will feel like you're starting your day on the right foot. Naturally gluten free, it's a wonderful balance of starch to energize your body, veggies to nourish, and protein to satisfy. Potatoes are an excellent source of potassium, a nutrient most people don't get enough of. Kale delivers fiber and a large dose of vitamin C and fat-soluble vitamins A and K. Onions are packed with phytochemicals, including the powerful antioxidant quercetin. And eggs supply the protein that will keep you satisfied until lunch time. Don't feel limited to the morning, you can energize with this meal any time of day! Use my Potato Seasoning Mix in this recipe.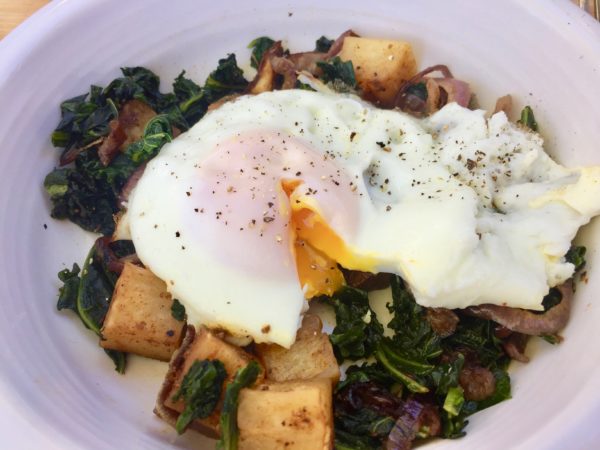 | | |
| --- | --- |
| | |
Chop the potato into one inch cubes.

Toss them with olive oil, then add potato seasoning and mix until evenly coated. Spread on a sheet pan lined with parchment paper or foil. Bake for 40 minutes, mixing after 30 minutes. Once they are fork-tender, remove from oven and transfer to the mixing bowl with the cooked onions and kale (see below).
While the potatoes are baking, warm the oil in a skillet over low heat, then add the sliced onion. Cook slowly, stirring often, until soft and caramelized. Transfer to a large mixing bowl. Set aside.
Remove kale stems and chop the leaves.

After transferring the onions to a bowl, add another teaspoon of oil to the pan along with water and salt, and raise temperature to medium. Cook the kale, stirring frequently, until all the water evaporates. Add to the mixing bowl with the onions.
Stir cooked potatoes, onions and kale together.

To serve, place about one cup of veggie mix on a plate. Top with a steam basted egg (see how here) and fresh cracked pepper. Enjoy!
If I'm not cooking for a group, I will store the veggie mix in a container in the refrigerator and warm a portion for myself to enjoy a healthy weekday breakfast, topped with a fresh-cooked egg, of course!