When I was a kid I LOVED instant oatmeal—it was sweet and delicious. As a mom and dietitian I still love oatmeal—it's healthy, pretty quick and my kids love it! While camping last summer, we opted for the packets of instant oatmeal for a quick, easy breakfast. I was reminded how much I enjoyed the flavor and convenience, but was not thrilled about the sugar content. Atypical packet of flavored instant oatmeal makes about a half cup of cooked oatmeal and contains 11 grams of added sugar—almost half a day's worth! I thoughtI could create an instant oatmeal mix that is just as delicious and more nutritious, with less sugar and more protein. I did, and here's the recipe! Compared to a leading brand, this recipe has 40% less sugar, more protein and is higher in healthy fats. This instant oatmeal recipe is slightly sweet and deeply satisfying—a wonderful, comforting breakfast. The recipe makes a large batch of dry mix that can be stored in an airtight container. Simply add hot water and enjoy!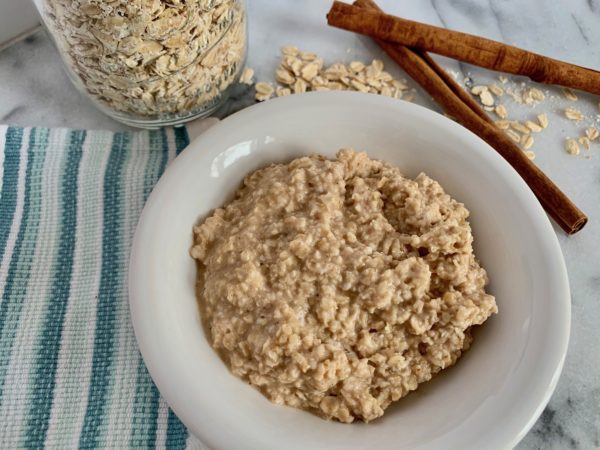 | | |
| --- | --- |
| | |
In a food processor, grind 4 cups of quick oats to powder. Set aside. Grind walnuts in a food processor until they are finely chopped.

In a large bowl, combine the ground oats, remaining quick oats, walnuts, brown sugar and spices. Store in an airtight container.

To prepare, combine 1/3 cup oatmeal mix with 1/3 cup boiling water. Stir to combine, then allow to sit for one minute until the water is absorbed. Enjoy!