Need a recipe for your graduation party, bridal shower or brunch? Here's your go-to salad, and it's quick and easy to boot! This is the latest challenge for The Recipe Redux; it's a wonderful, healthful recipe you can use this "shower season."
This salad recipe is for spring and summer, when the ingredients are in season. Buying strawberries, snap peas and spinach in season is more affordable and will pack a lot more flavor. The strawberries will be bright red, juicy and sweet. Snap peas will have a smooth, bright green appearance with a satisfying (guess what?) snap when you bite into them and a fresh flavor. You can find spinach at your local farmers' market, and perhaps the other ingredients too. The fresher the ingredients, the more nutritious! This salad is packed with fiber, potassium and vitamins C and A with benefits to heart health, gut health, eye health, not to mention cancer prevention.
The fruity sweet flavors of strawberries, sugar snap peas and a touch or honey makes this a great introductory salad for kids. Have them wash and tear spinach leaves, pinch the tops off of strawberries and squeeze lemon juice to help you prepare it. You may find they gobble up ingredients along the way!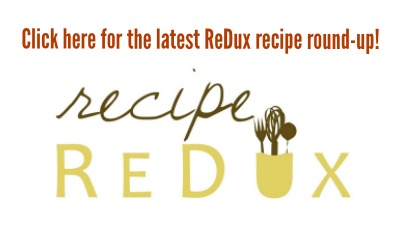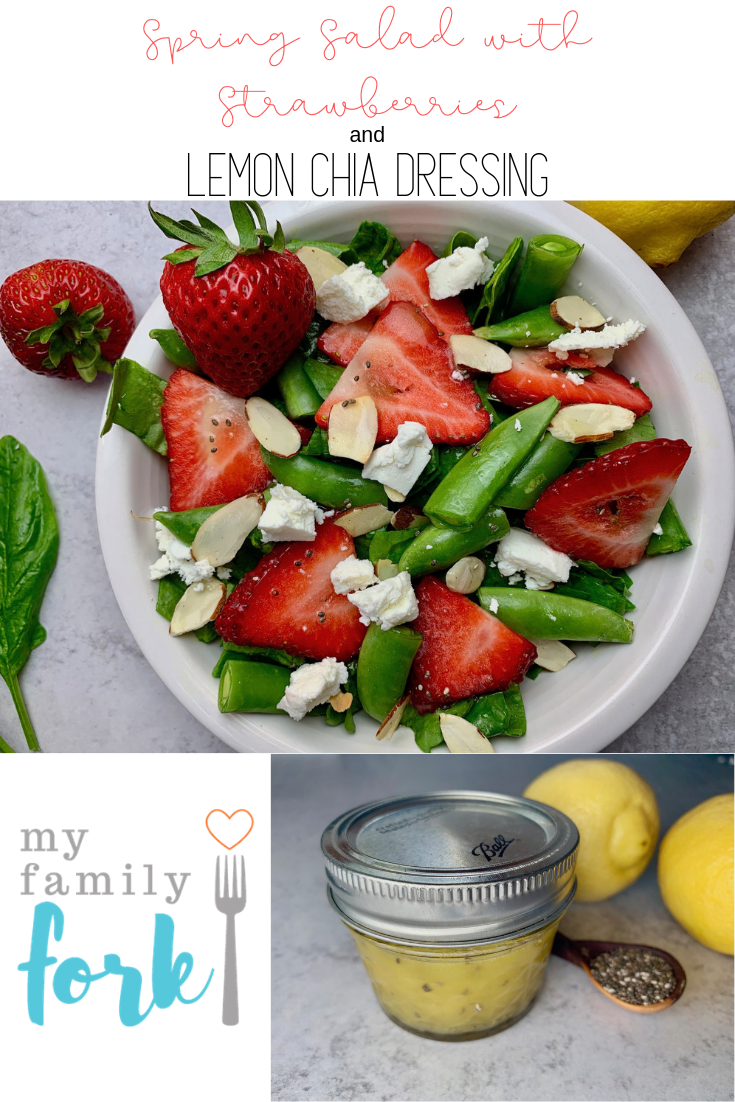 This scrumptious salad has a touch of natural sweetness from strawberries, sugar snap peas and a touch of honey in the dressing. It's a great family salad that kids will love! Have them help put it together, and watch them snack on the ingredients along the way!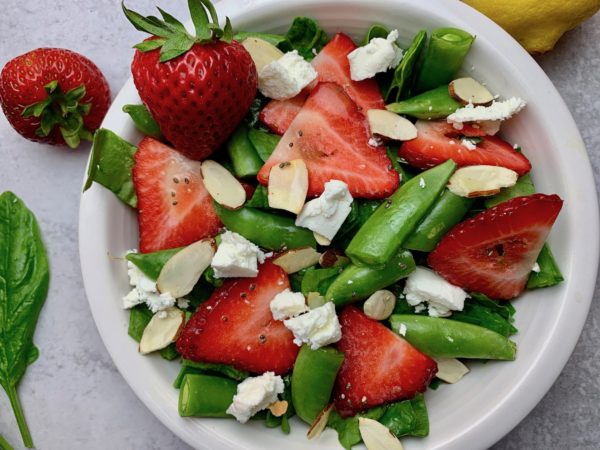 | | |
| --- | --- |
| | |
Arrange the spinach in a salad bowl. Add sliced strawberries and sugar snap peas, then large crumbles of goat cheese.

Dressing: Add all ingredients to a bowl and whisk thoroughly to combine. Alternately, measure all ingredients into a jar with a tightly fitting lid and shake until combined (then you can store leftovers in the jar!). Drizzle over the salad and enjoy!
For a vegan salad, substitute toasted sliced almonds for goat cheese and agave nectar for honey.
Feel free to substitute mixed greens or chopped lettuce for spinach.
Do you have leftover cooked asparagus? Chop it up and throw it on!