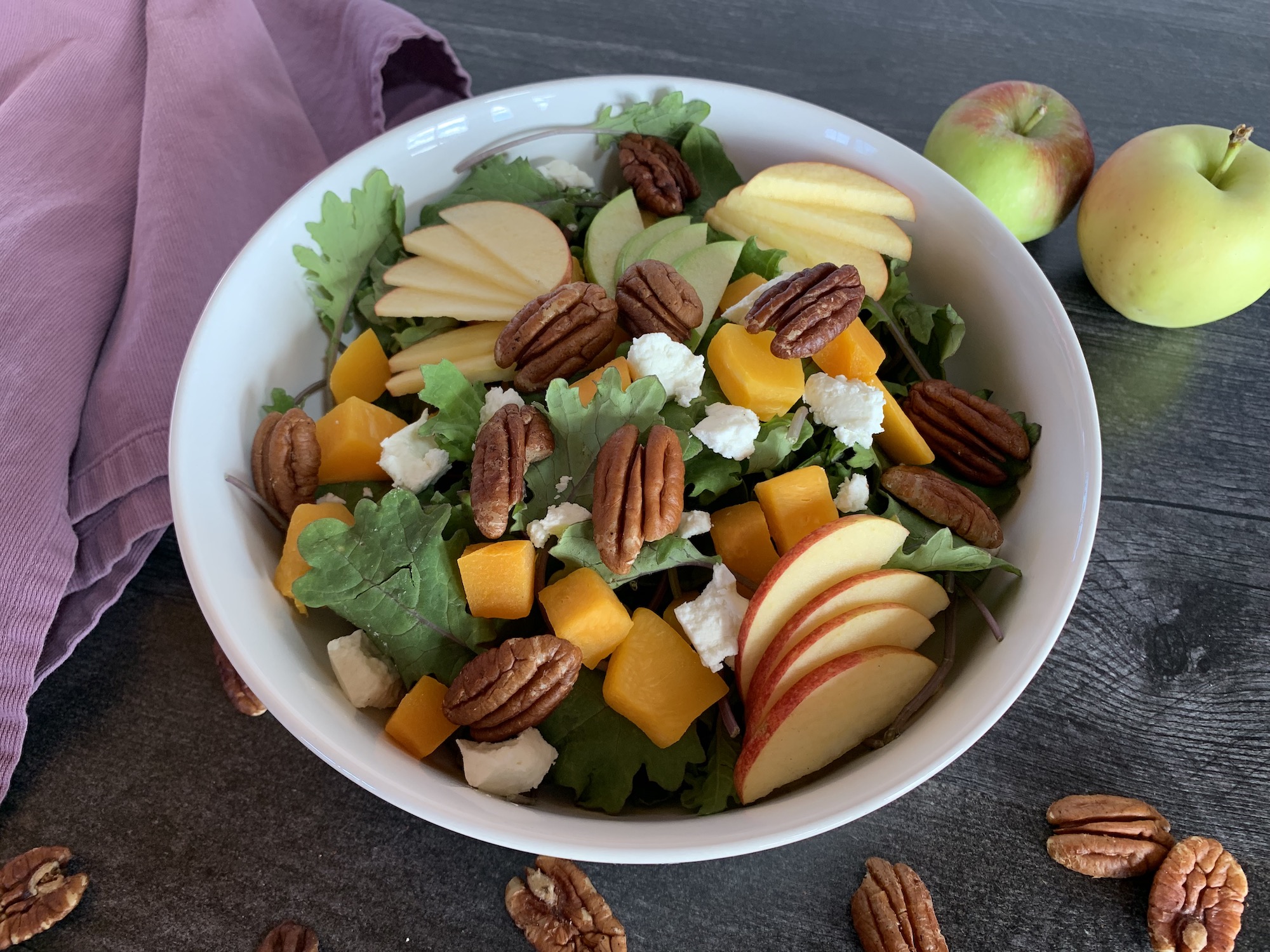 As the weather cools off, I want to enjoy a hearty salad that incorporates all the flavors of fall, don't you? Apples, butternut squash, pecans, and maple check all the boxes!
Kid-Friendly Salad
This year has been an abundant fruit year in our area, with the branches of neighborhood apple trees bending under the weight of the fruit. I love adding fruit to salads and it's a great way to pique kids' interest too! Thin slices of crisp, sweet apples add texture to this salad and are perfectly paired with soft roasted butternut squash and crunchy candied pecans. The delicate, sweet flavor of the Maple Cider Vinaigrette is also a kid-pleaser. Invite kids to mix the butternut squash and oil, measure the dressing ingredients and build their own salad!
Nutrition Stars
Apples provide a good dose of vitamin C, which can deliver the immune boost we need with flu season approaching! The butternut squash and kale are rich in beta carotene, an antioxidant that also supports immune health.
Tips to Make Butternut Apple Kale Salad EASIER!
I like to buy pre-washed baby kale. I might still give it a rinse, but no chopping necessary!
When I'm short on time, I buy peeled, cubed butternut squash, available in the produce section of most grocery stores. It might cost a bit more, but sometimes it's worth it!
You can make your own quick candied pecans, but they can also be found ready-to-go in the bulk section.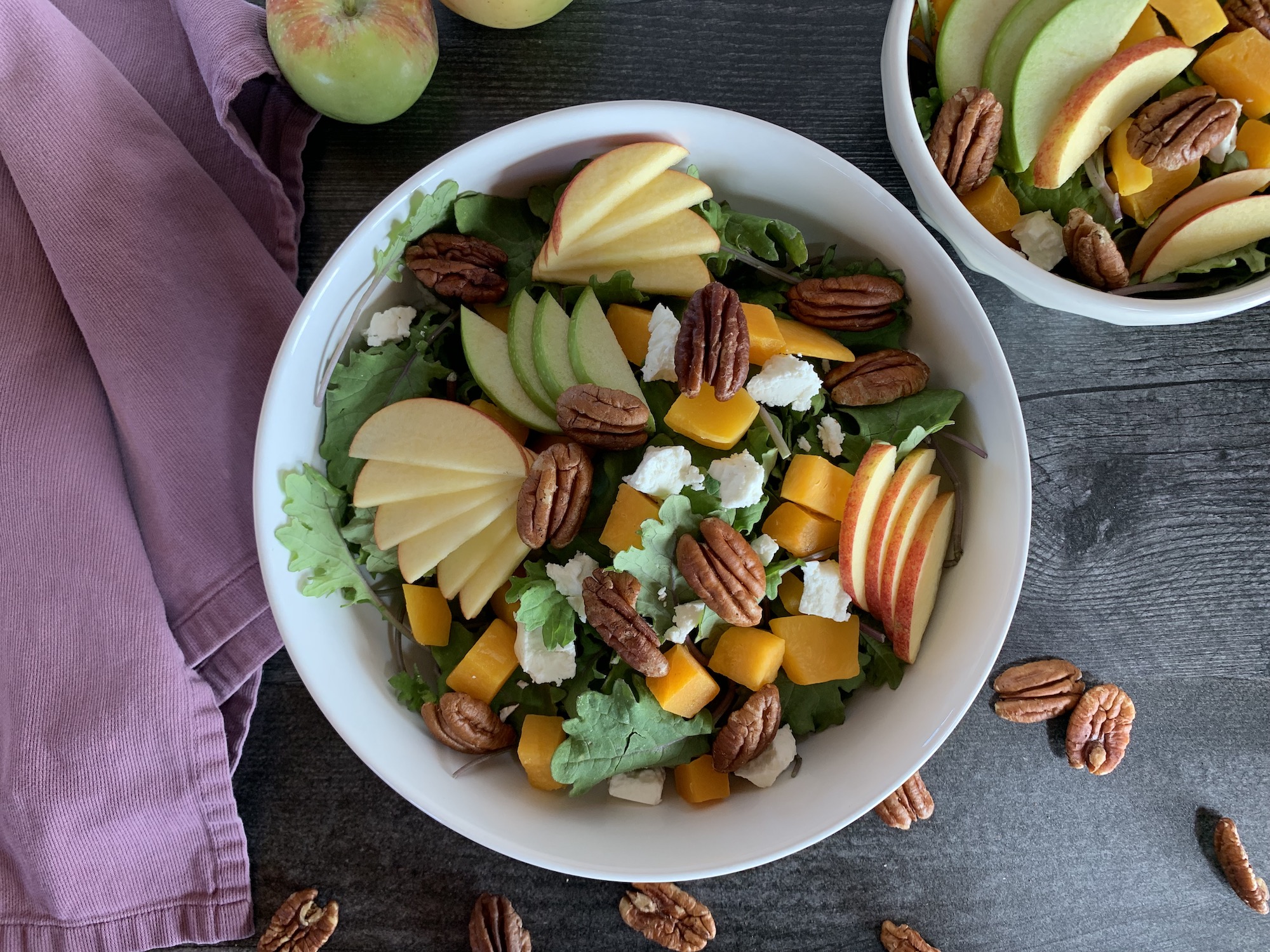 How to Make Butternut Apple Kale Salad
First prepare the butternut squash. I like small cubes, about a half inch. Sometimes when I buy cubed butternut squash the pieces are bigger than this, so I cut them a little smaller. To minimize dirty dishes, spread the butternut squash on a sheet pan and drizzle with the olive oil. Mix it around until the squash is coated with the oil, spread the squash in an even layer, and place the pan in the oven. Bake for ten minutes, then stir the squash. It should be starting to brown. Bake another 5-10 minutes until a piece of the butternut squash is easily pierced with a fork.
Cut the apple into thin slices, then start building your salad bowl. Place the baby kale in the bowl first, then add the butternut squash, apple slices, crumbled goat cheese and candied pecans.
Now, mix the Maple Cider Vinaigrette. Place the ingredients in your blender and blend until a golden, silky mixture forms. Store extra dressing in a jar in the refrigerator.
Serve the Butternut Apple Kale Salad and top each serving with about two tablespoons of the Maple Cider Vinaigrette.
| | |
| --- | --- |
| | |
Preheat the oven to 375 degrees. Spread butternut squash on a sheet pan and drizzle with olive oil. Mix well, bake for 10-15 minutes, stirring halfway through, until soft when pierced with a fork.

Place baby kale, sliced apple, butternut squash, pecan halves and goat cheese into a serving bowl.

Add all vinaigrette ingredients to a blender and blend until smooth. Drizzle over the salad and serve. Enjoy!
Make it vegan--skip the goat cheese!