Have you heard of the Mediterranean Diet (or "Med Diet" if you're hip to the new lingo)? This healthy meal pattern includes lots of fruits, vegetables, healthy fats, nuts, seeds, legumes, whole grains, some seafood and smaller amounts of dairy and lean protein. For a visual, check out the Mediterranean Diet Pyramid, developed by Oldways and Harvard School of Public Health here.
This meal pattern has been proven to reduce the risk of heart disease, hypertension and diabetes. On board? You can't go wrong with a fresh, flavorful Greek salad. It's quick to prepare and packed with flavor and nutrition. Healthy monounsaturated fats—check. Tons of veggies—check. Add chicken breast or hummus and you've got a lean protein. Serve with whole grain pita, tortilla or lavash and you've got a well-balanced meal. You guys, after I took these photos, I got a fork and dug in—SO good! The crunch, the oil, the zesty cheese, mmm!
Start with the Healthy Greek Salad recipe and you'll have days of quick easy meals. Enjoy as a snack, pack a lunch for work, or serve as a refreshing dinner. Here are three ways to enjoy the Healthy Greek Salad:
1. Need a snack or a quick meal? Serve the Healthy Greek Salad with a side of hummus and wedges of warm whole wheat pita bread.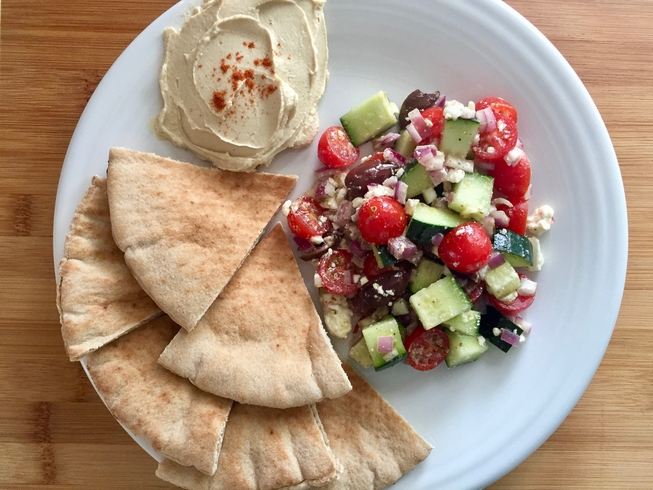 2. On the go? Spread hummus onto a whole wheat lavash (or tortilla, or pita), add romaine leaves and Healthy Greek Salad. Wrap it up and you're off!

3. Who loves a meal salad? (I do)! Chop romaine lettuce, top with Healthy Greek Salad and sliced grilled chicken breast. Warm some pita bread to go with it.

BONUS idea! Top a serving of whole grains like quinoa, farro or whole wheat cous cous with Healthy Greek Salad.